HOW IS EVERYONE

(I think my last entry said pretty much the same thing.)

who is still on here I want to know I WANT TO HUG YOU
Y HELLO THAR
Current Mood:

curious

Current Music:

"climbing up the walls" - radiohead


I am also testing out crossposting from DW to LJ and so on. And I promise I will be back with a real entry soon. But until then... how are you? :D
HOW IS EVERYONE DOING? ...since I haven't been around in 230949028394829308492038 days here. D:
Grandfather died
. I never knew any of my grandparents (father's parents, mom's mother) besides him (mom's father) because they all died when I was really young-- and I had never been to a funeral before (even though his wife, my stepgrandma, didn't have a "big" funeral - we just had a viewing/gathering at the funeral home with about 8 of us, family and close friends).
So this week has been odd for me. It's been new, it's been sad and it's been long. I didn't really know what to expect. We spent a lot of time with my step-grandma and her sense of humor has gotten sillier over the years, which was a nice surprise. We ate lots of amazing food. I had my first
tartufo
thanks to her, which, my god, it is a tastebud-gasm. Valerie and I played Mario Party on the DS at the hotel and bitched at Peach and Daisy. We ate a billion plates of food at Jimmie's which is a restaurant my Mom always loved. We also bought like 4 pounds of cookies altogether.
We just got back today and I'm going to work tomorrow. Then it will be the weekend and I will be working on costumes for Katsucon to get my mind on something else. I already know I can't finish my Young Jedi Knights Tenel Ka armor that I was originally planning to finish, so I'm gonna throw a YJK-type Tenel Ka together for the shoot (since Nate is bringing YJK Jacen and Kayla is bringing YJK Zekk - I didn't want to bring a Queen Momma TK when they were doing YJK). And we won't have time to make our Persona 2 costumes as detailed and well as we want so we'll probably push those back to another con. We're going to put all our energy into the Glitterati costumes now and finishing the Silent Hill 2 costumes.
I told myself after MAGFest I was going to quit being a lazy bitch and
do stuff
- work on websites, learn how to use this serger I bought forever ago, keep up with commenting and stuff,
write more
-- and I have done nothing. I have been lazy. And that needs to stop. :|
How do I get motivated?
All that catching up I said I was gonna do on the internet and costumes and MAGFest recaps and crap was put aside because my mother, Duane and I (and my sister met us there) went to Connecticut this week because my
Current Mood:

tired

Current Music:

"pala" - friendly fires
Alright, so I know there's been I'M NOT USING LJ ANYMORE, I'M GOING TO _________ around LJ these days. XDDD This is the post where I ask
Current Mood:

curious

Current Music:

"pala" - friendly fires
IS EXPLODING~
Current Mood:

excited
Everyone else is doing it -- so what better way to coordinate! XD I figure I will fill this in for me and Nate since pretty much every single costume I have planned for 2012 somehow goes with a costume he has planned for 2012 EXCEPT FOR ONE SINGLE COSTUME, which I will note, lololol.
Current Mood:

artistic

Current Music:

"baby m" - marumari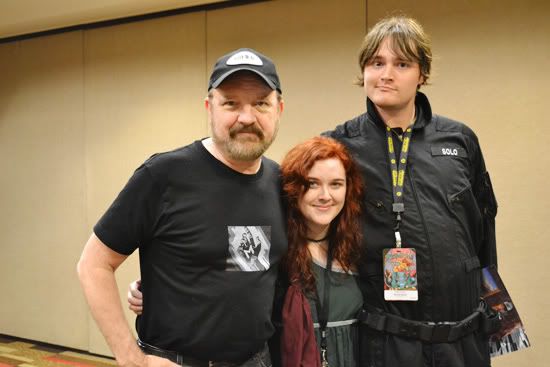 There's lololol a post-getting-massively-rained on Jacen and Tenel Ka (we look so much more coherent in the photoshoot pictures, haha) meeting JIM BEAVER OKAY. He is amazing and Natalie is amazing for making me go talk to him and get his autograph - she is also awesome for getting me a hug from Misha Collins since I am a chicken shit. ILU NATALIE. XD

P.S. NATE. WHAT IS THAT EXPRESSION???
This is mostly gonna be photos since my brain is lame and everything always runs together after a week, buhhhh.
(
Monday, September 5 and Tuesday, September 6 - DAT EMPTY WALKWAY?!?!? Also, Star Wars crack... naturally.
Collapse
)
Next will be the post will all the links to the other recaps in it, along with the tentative 2012 costume lineup, lololol. 287 DAYS, PEOPLE! XDDD
HEY LOOK WHAT I'M FINALLY FINISHING!!11 IN NOVEMBER.
Current Mood:

awake

Current Music:

"castles in the snow" - twin shadow
(I feel like this is a good way to get my ass in gear for making these for MAGFest.)
Here are pegs that already have a home. Pyramid Head is at
omicron1337
's house. He was super fun to make and I might make one or two for MAGFest (or any for anybody who wants one made). Davey Havok from AFI (specifically the
Miss Murder
video Davey <333) was commissioned by
ennta
, who I <333333. THEY BETTER BE TREATING YOU GUYS WELL OR I WILL SMACK THEM. XDDD
Here are the other bb pegs I have painted. As you can see, it's not many and I need to get my ass in gear cause MAGFest is right at the beginning of 2012 and it's almost the middle of November~ o_o

So here you have Luke Triton & Professor Layton, Tobias, cell phone charm Aang, Carrie (the first peg! XD), and Dean and Sam Winchester. Dean does not approve of Sam's demon blood habits okay.
And some darlings who are almost completed -- THEY JUST NEED HAIR. :|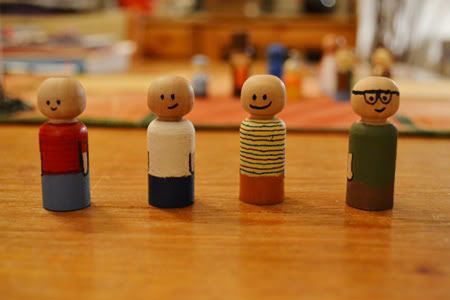 I DON'T SHUT UP, I GROW UP AND WHEN I LOOK AT YOU, I THROW UP. BLEEEEEH.
Since you guys are on my friendslist, I would give you a discount on them, haha~ XDDD So yeah, if there's anything you would like or anything you would like to give anyone, I'M OPEN. :3 The tiny ones are good for cell phone charms or necklaces, the bigger ones are good for keychains or necklaces - I can make them anything (save for pegs such as Pyramid Head and Layton who have giant things on their head XD). Or they can just sit somewhere!
And now my ass is going to catch up on LJ comments and work on effing Monday Dragon*Con photos. I'm so behind on EVERYTHING. D:
HELLO GUYSSSS. Okay, so I have been playing Dance Central 2 and working on costumes (kind of lol) and painting pegs. Here is where I introduce you to the current peg posse and share with you information on procuring one if you might actually like to (for you or a friend) since LE HOLIDAYS are coming up.
Current Mood:

chipper

Current Music:

"spectrum" - florence + the machine
zhobot.net at the low price of $18 with free shipping
lol.
ALSO, WE HAVEN'T HAD A KEVIN ZEGERS IS HOT UPDATE IN A BIT:
I just love that boy, okay.
I AM HERE. My doctor ended up wanting me to do physical therapy for my back and neck and I was like "lol okay" and then never scheduled it cause I wasn't gonna pay for something and take time off for something that I might be able to fix myself. So I worked my back out, took more vitamins and the pain seems to be gone. I guess I was stressing myself out. But now it's time for more stressssssss. Because I realized now it is November and MAGFest is at the beginning of January and Nate and I have a table there to sell stuff at. We've been planning to have all kinds of stuff there, including buttons, peg people, etc. AND WE HAVE NOTHING DONE. Except a Fallout 3 shirt. Which you can find on
Current Mood:

tired

Current Music:

"uselink" - depeche mode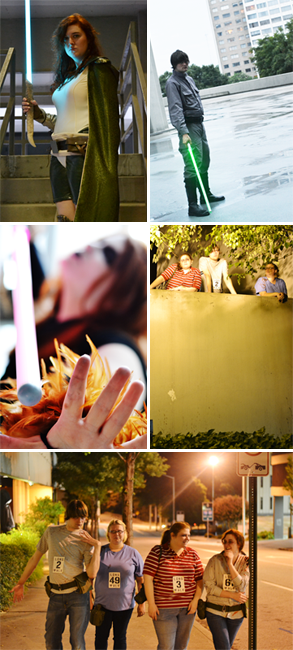 CRAZINESS. Also, Ashley's thing she does with her neck in her Nightsister outfit that creeps me out. EVERY SINGLE TIME. Aaaaaaaand Nate being a bloody boy model?
And for real, I apologize in advance for the absolute incoherency this post will contain. I AM OUT OF IT. :B
(
Sunday, September 4 - Errrrebody in the room gettin' tipsy. Star Wars, random costumes I loved, The Long Walk, bloody blood, another emo album cover. AAAAND there's the hotel room number, wtf.
Collapse
)
Monday and Tuesday don't have a lot of photos so I'm hoping to get that one up by this weekend! THEN STARTS THE DRAGON*CON 2012 PLANNING OKAY.
So the rest of Sunday has a billion photos because it was more Star Wars time and Long Walk time and we saw other fun costumes. IT WAS OVER A MONTH AGO ALREADY I'M FORGETTING EVERYTHING. D:
Current Music:

"miss you" - foster the people